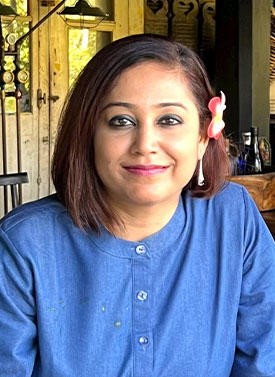 Apart from being a best - selling fiction writer, Sujata holds a Master's degree in Human Rights and has been working as a social worker, facilitator and psychosocial trainer for more than a decade with focus on children, adolescent and women issues.
In 2001 Sujata joined grassroots NGO in India headquartered in Delhi as a volunteer for their flagship project – the 'Better Life Options programme, (BLOP)' focusing on school dropout adolescent boys & girls. Later, she was inducted full - time as a project coordinator and handled two of their other important projects.
In 2005 Sujata joined ACORD (Asian Centre for Organization Research and Development); a well - established non-profit organization in social consulting and training. ACORD's most successful projects include the Yamuna Action Plan – I (YAP - I) scheme and Bhagidari – Government - Citizen Partnership scheme of the Delhi Govt. The organisation provided consultancy services for both these projects to the Delhi Government. The Bhagidari scheme won the United Nations Award (out of 200 entries) in the year 2005 for its unique concept of Government – citizen partnership in governance. Sujata was part of the core team that designed several of the LGIE workshops for the Delhi Government during her tenure with them.
Sujata is also a founding member of Empowering Minds; a Delhi based NGO focusing on education and mental health issues of women and children. After joining EM, she was trained in a special psychosocial program called PEP (a program meant for the bleeding disorders community) in the US and is now on its international steering committee. Along with Richa Mohan, Director; Empowering Minds, she imparts training to parents, caregivers, and medical professionals working in this area. She's also held workshops to address the psychosocial needs of women.
In 2017 Sujata founded a talk - therapy based platform, 'Talk it Out Express (TiOE). She (and her team of psychologists and subject experts) use 'talk - therapy' to help individuals and groups with emotional distress or emotional burden. TiOE uses Cognitive Behaviour Therapy (CBT) and Expressive Art Therapy tools to build a set of skills in people to help them recognise, manage and express emotions positively.